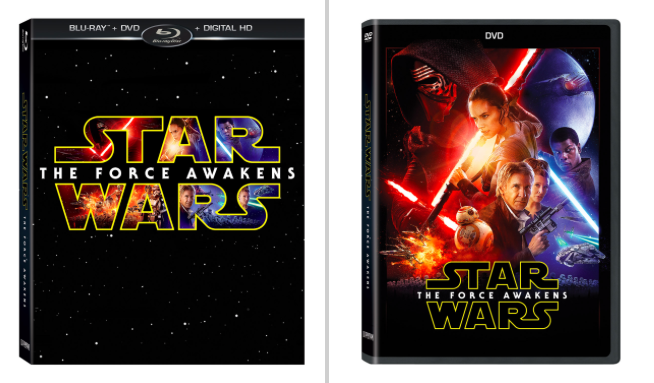 Den 22 april kan du köpa Star Wars The Force Awakens på Blu-Ray och DVD! Här ovan ser du Combopaket och DVD artwork. Det kan hända att vi får se några alternativa boxar också, det kommer ut en handfull exklusiva boxar till kedjor som Walmart, Target och Best Buy i USA, vi får väl se vad som letar sig över hit. I USA släpps filmen som digital HD download redan den 1 april och på disc den 5e, men vi får vänta lite här.
Bonusmaterialet som kommer med är:
Secrets of The Force Awakens: A Cinematic Journey - En making of dokumentär.
The Story Awakens: The Table Read - Ensamblen träffas för första gången och läser manus.
Building BB-8 - En titt på hur BB-8 kom till.
Crafting Creatures - En titt in i creatureshop på Lucasfilm.
Blueprint of a Battle: The Snow Fight - En djupare analys av Kylo Rens och Reys ljussabelfight i snön.
John Williams: The Seventh Symphony - John Williams delar med sig av sina tankar och idéer under jobbet med musiken till Episod 7.
ILM: The Visual Magich of The Force - Bakom scenerna hos ILM, en närmare titt på digitala effekter.
Force For Change - Hjältar kommer i alla former, se hur Force for Change hjälper Star Wars fans att hjälpa fans över hela jorden.
Deleted ScenesLäs hela pressrelasen på StarWars.com